Sunday 21st September 2014 - Tuesday 23rd September 2014
After all of the beautiful weather, today starts as a "frizzy hair" day, foggy and damp.
But, it Sunday, so, frizzy hair or not, Kathleen has to go to church!
While Kathleen does the "church thing", I amuse myself watching a "parade" of British Classic Cars.
Not sure what it is all about, but, there are more Classic British cars here, than there are in Britain!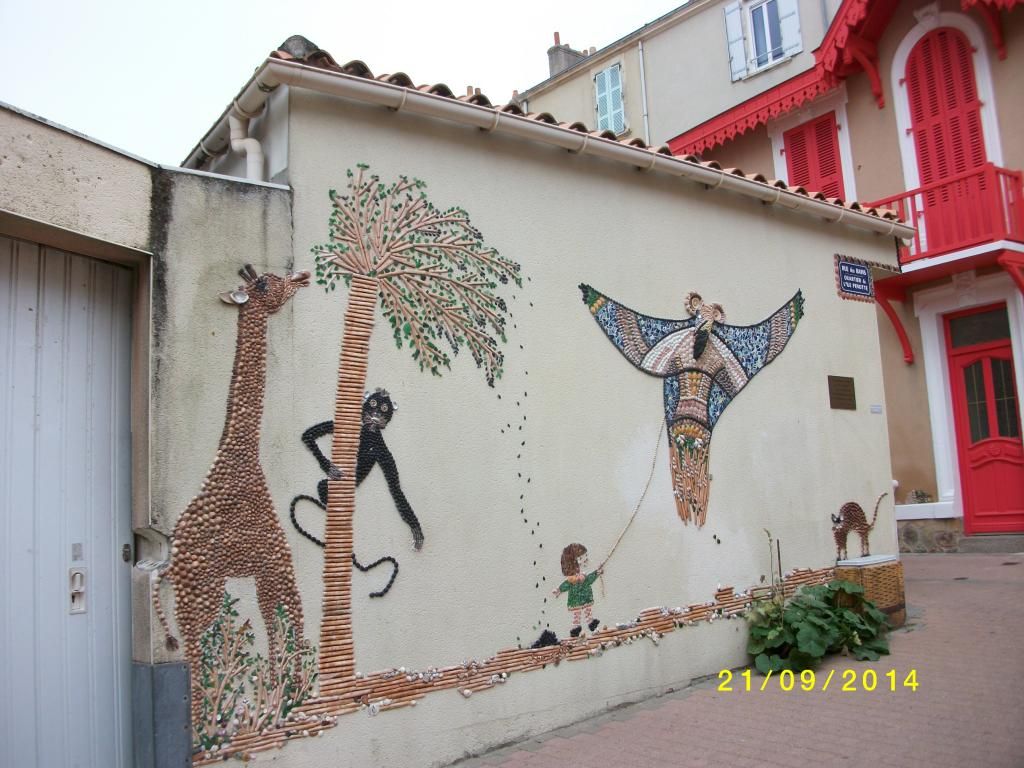 Then we visit a small area of the town, where all of the houses have mosaics on the walls, made of sea shells.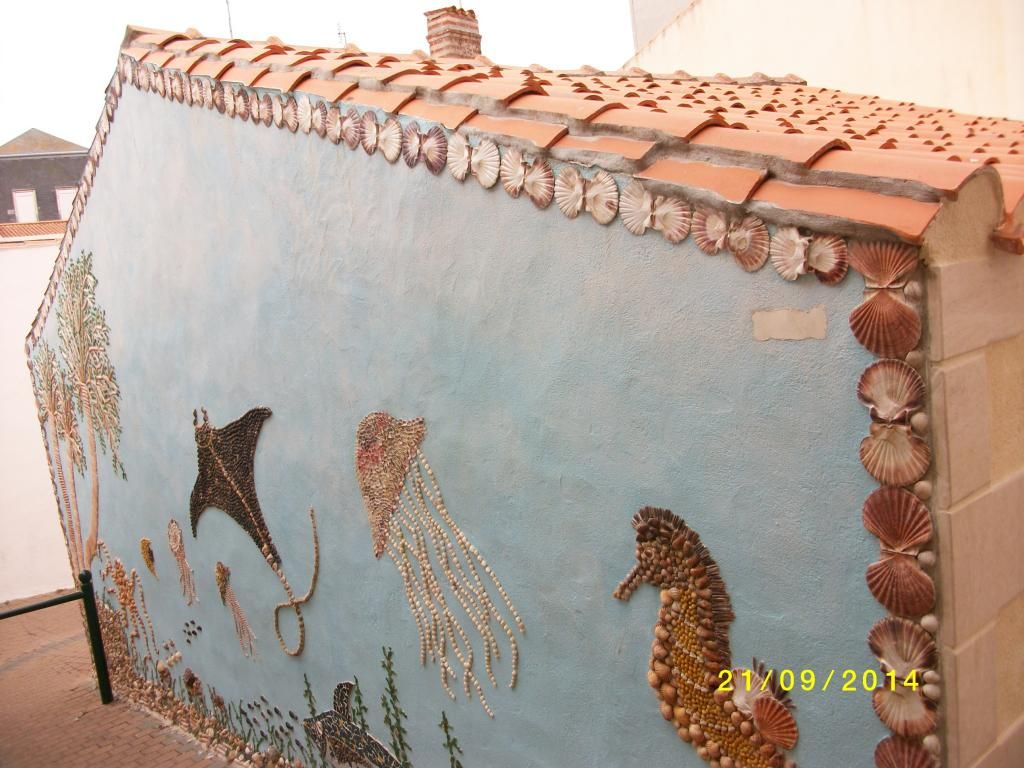 Again, not sure what it is all about, but, very pretty.
Lunch beckons, cocktails, lunch, followed by Cointreau, is Kathleen safe to ride home?
We plan to leave here tomorrow, so, after packing every things away (except the bicycles) and loading the scooter on the trailer, we peddle down to the coast, for one last evening of watching the sea.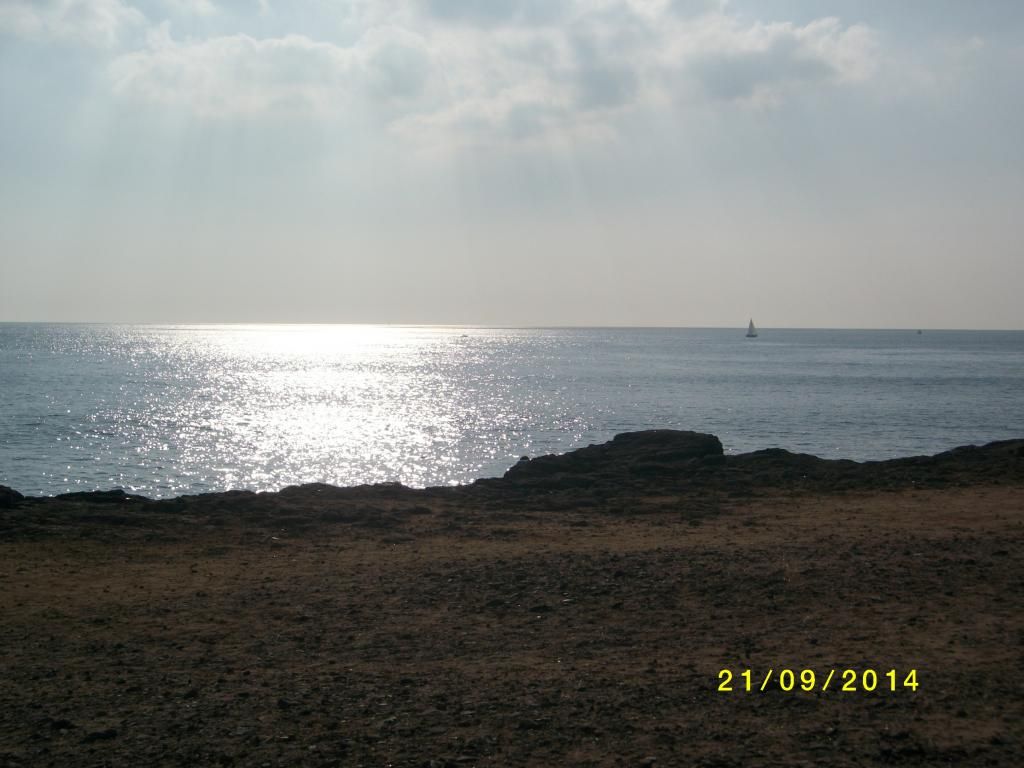 Monday morning, time to leave Le Chateau-d'Olonne and head for our next destination, La Flotte-en-Re, La Grainetier on the Ile de Re.
An easy 60 mile journey.
There is a (toll) bridge, from La Rochelle, to Ile De Re.
The toll, varies depending on the season, at this time of year (September) it is 8Euro for Campervans upto 3.5Tonne and 16Euro for vans over 3.5Tonne.
Much to Kathleens delight, we are charged only 8Euro, despite being 3.750Tonne.
Clearly, the toll booths do not have a weighing mechanism!
Weather continues sunny and warm.
Spoke too soon, Tuesday morning, we have to put the heating on in the van!
Our English neighbours (a very elderly couple, towing a caravan) are leaving. The lady of the pair supposedly hails from Newcastle, you would never think it from her accent, she must have gone to elocution lessons!
Their caravan mover has gone on the blink, so, we render assistance manhandling the caravan into position to hitch up. They are heading towards Cahors, goodness knows how they are going to manage to heave the caravan about.
By lunch time, the sun is out again, and it is warm enough to venture out on our bicycles to explore.
Into La Flotte, the nearest village, to check out the church, ready for Sunday!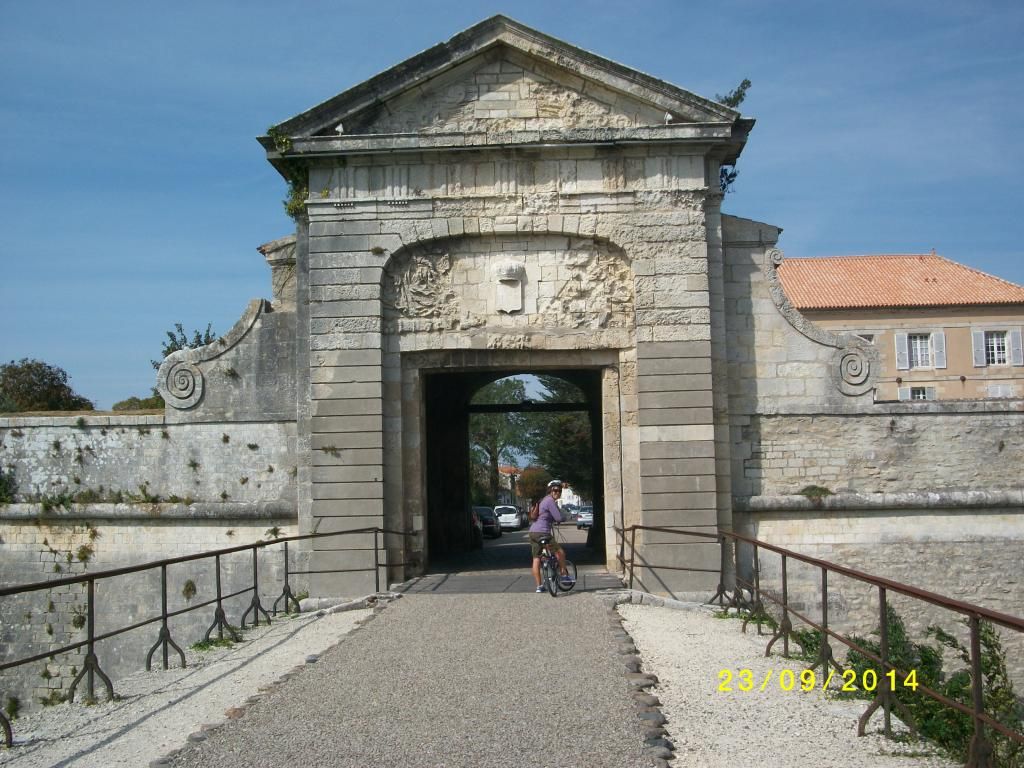 Then on a few more miles to Saint Martin de Re, a much more interesting and pretty village.
The "old" village and port are surrounded by a very extensive and impressive wall, dating from 1600's or possibly before. complete with moat (now dry).
There is an impressive church, partly ruined.
It has suffered all kinds of calamities during the centuries, storm and bombardment (not by us, for once, but, by the Dutch).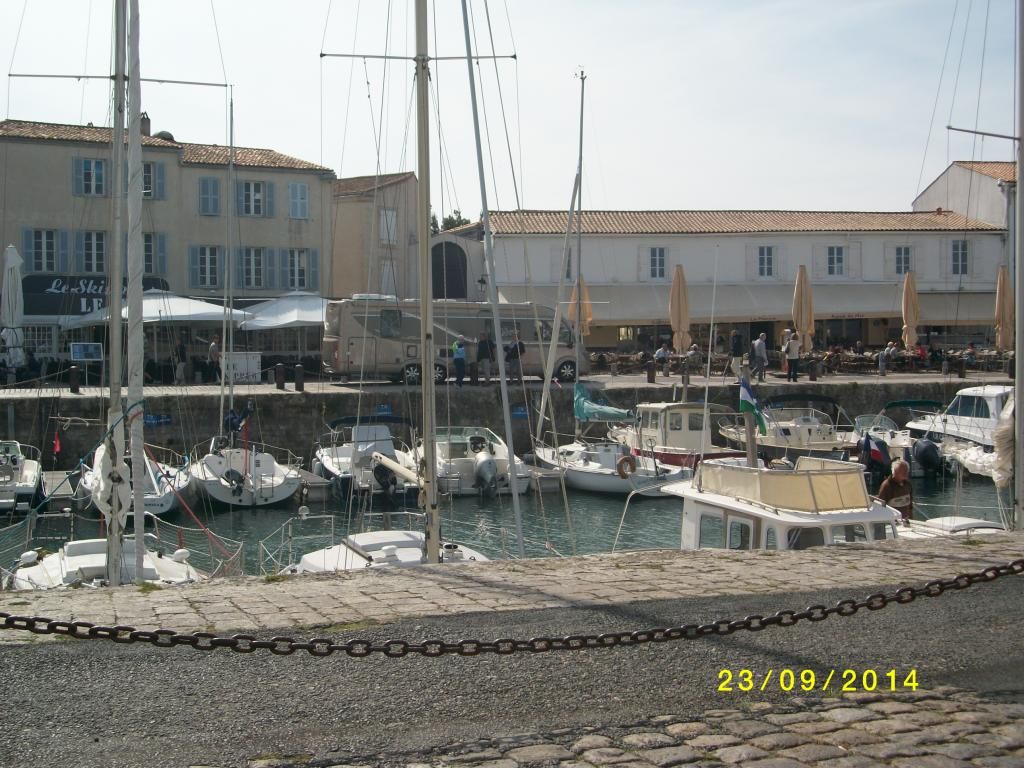 We find a bar, to have a refreshing beer, and observe this, no doubt worried, campervan driver, who has ended up on the quayside, with a rather large campervan, and a very narrow road, plus lots of pedestrians and cyclists to avoid.