Wednesday 24th September 2014 - Friday 26th September 2014
The plan for Wednesday is to do "a little" cycling. Little do we know how much we are actually going to do!
The island is fairly small, we have a map, what can go wrong?
We set off heading for a place called Sainte Marie de Re, which is on the "opposite" coast.
Ile de Re is a cyclists paradise, reasonably flat, plenty of dedicated cycle tracks and/or quiet roads.
There are even signposts on the cycle tracks.
We peddle and peddle, and, we come to....
Le Bois Plage en Re!
At least, it IS on the opposite coast!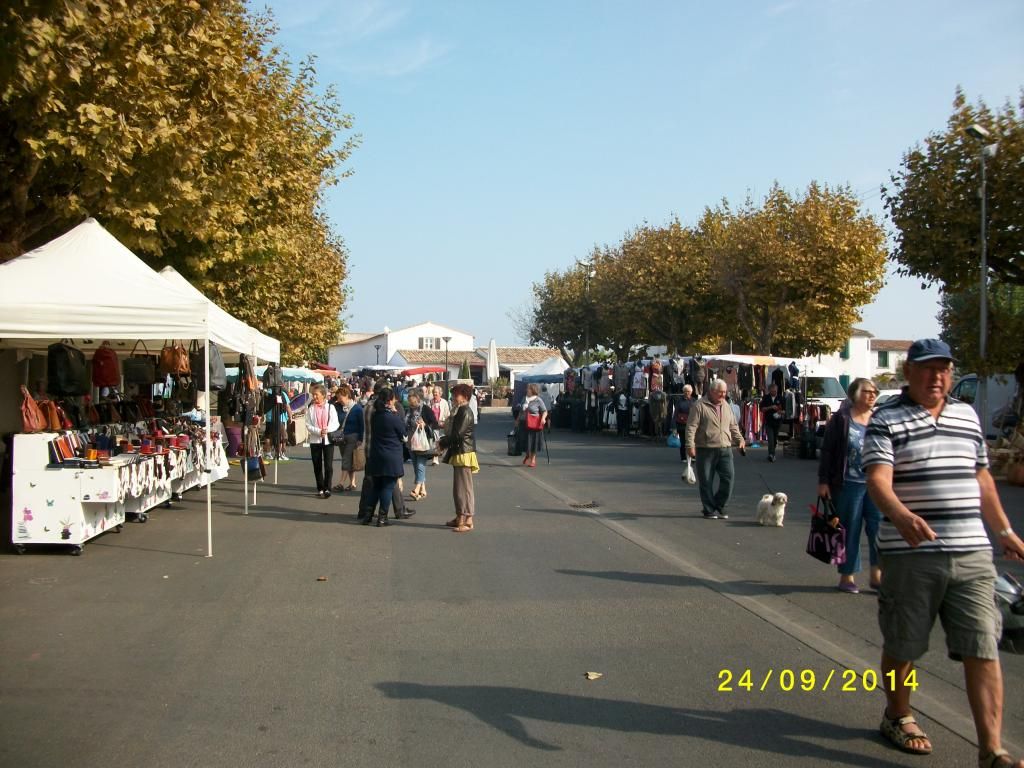 Never mind, it is a pleasant place, and (it is not often you will hear me say this) it has a very pleasant market.
Our first purchase is a rather clever little device to chop onion, garlic, parsley etc. It is hand operated, and, we are assured by the lady on the stall, dishwasher proof.
I am always reluctant to buy kitchen "gadgets", because, Kathleen, although very accomplished at many things, is (now how can I put this?) not exactly an enthusiastic cook. (is that a "safe" comment, I wonder).
The gadget is purchased on the understanding, she will actually use it more than once.
Time will tell.
As usual in your average French market, there are excellent food stalls, and we are able to buy our picnic lunch of ham quiche plus a ham and cheese sandwich.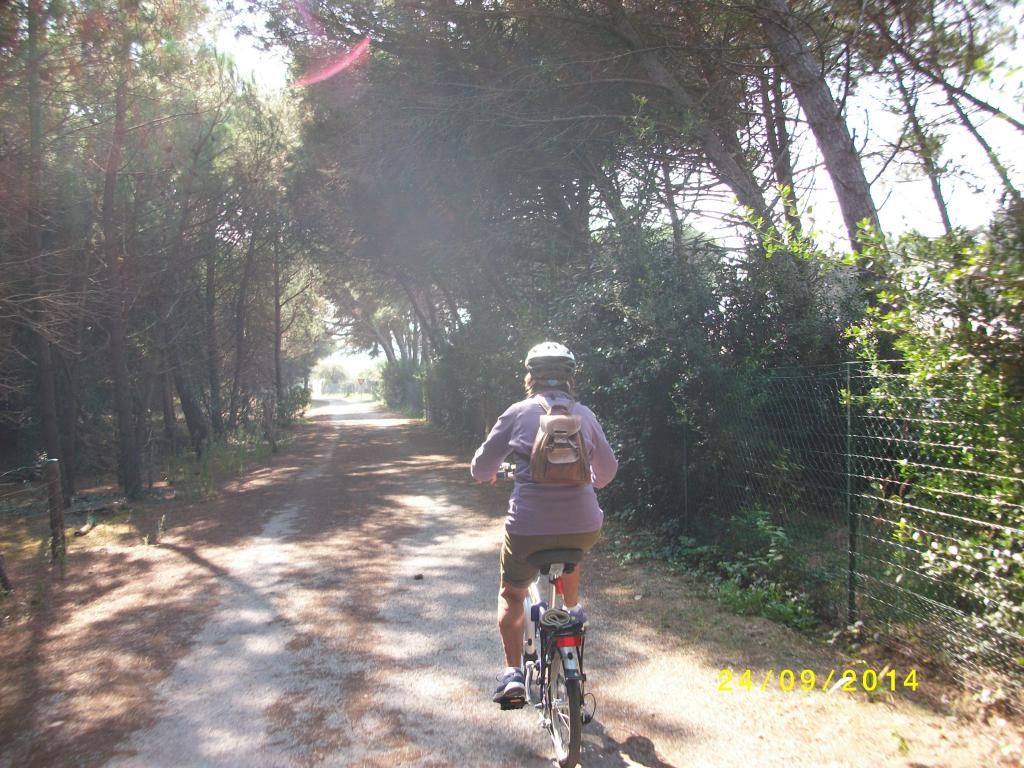 Suitably fed, we decide to continue or quest to find Sainte Marie de Re.
Disregarding the map, and following the signposts, .....
we eventually find ourselves at a very beautiful, deserted beach...
we are now in serious need of an alcohol top up, it is thirsty work, all of this peddling.
We press on, and, eventually find the village square in Sainte Marie de Re, complete with very pleasant bar.
Refreshed, we head for the campsite, via La Flotte.
My trusty Runkeeper App, tells me we have cycled almost 15 miles, this is a record for us on the folding bicycles.
Kathleen cannot wait to try out her new kitchen gadget, and soon has a nice collection of chopped onion and garlic.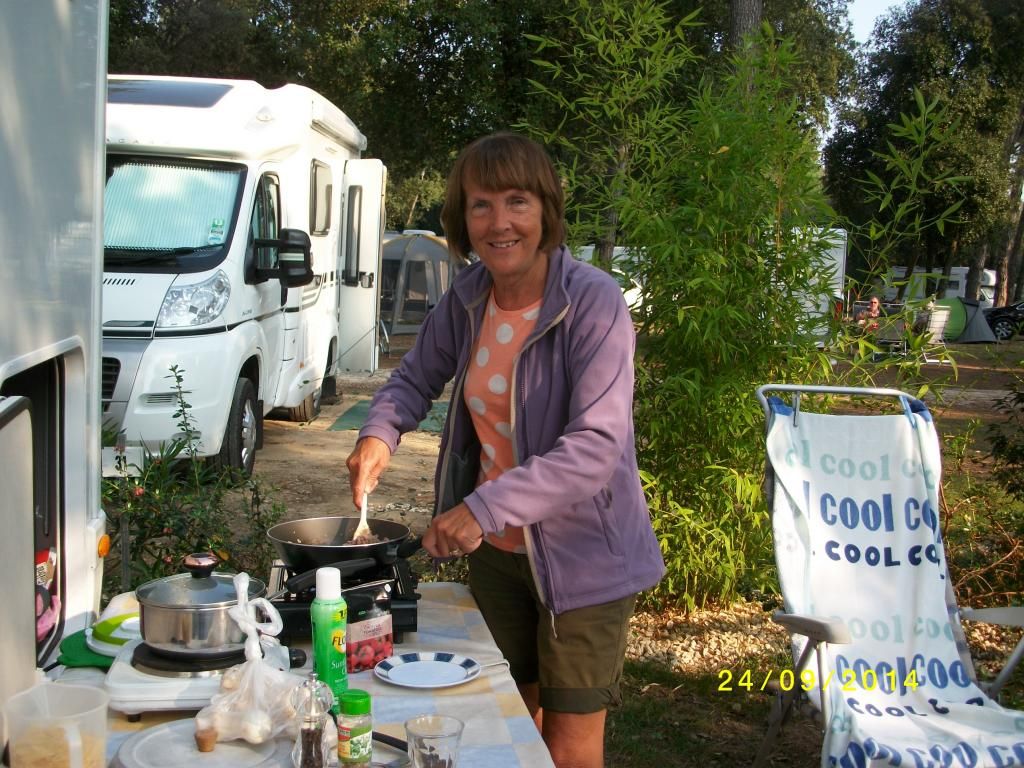 This, or course, means she must cook something.
So, here she is, rustling up a culinary delight, alfresco!
We do not have a dishwasher in the campervan, but, I can confirm, the "gadget" is easy to wash by hand.
Will it get a second outing?
Even when enjoying yourself, clothes get dirty and have to be washed, so, Thursday is a "housework" day, clothes washing, riding to the supermarket on the scooter to buy supplies.
New wine glasses to replace those I broke (damned speed bumps)!
The kitchen "gadget" actually gets a second outing, Kathleen cooking alfresco, second day in a row.
Perhaps it was worth 15Euro?
The campsite closes in a few days (30th September), and may people are packing up to leave.
Friday, Kathleen suggests we do a tour of the island on the scooter.
I may be a cynic, but, I am immediately suspicious.
We ride to several places, St Martin de Re, La Couarde Sur Mer, then Kathleen suggests, we go to Le Bois Plage En Re again.
It so happens, pure coincidence you understand, there is an even bigger market on at Le Bois on a Friday.
Kathleen acquires a new pair of shoes, they do not quite fit, but, what a bargain, only 10Euro!
I am joking, they do fit, and, they look very nice, they were only 10Euros.
We return to the van, and have a light lunch, then go out cycling again, there is no doubt, the best way to see this place is on a bicycle!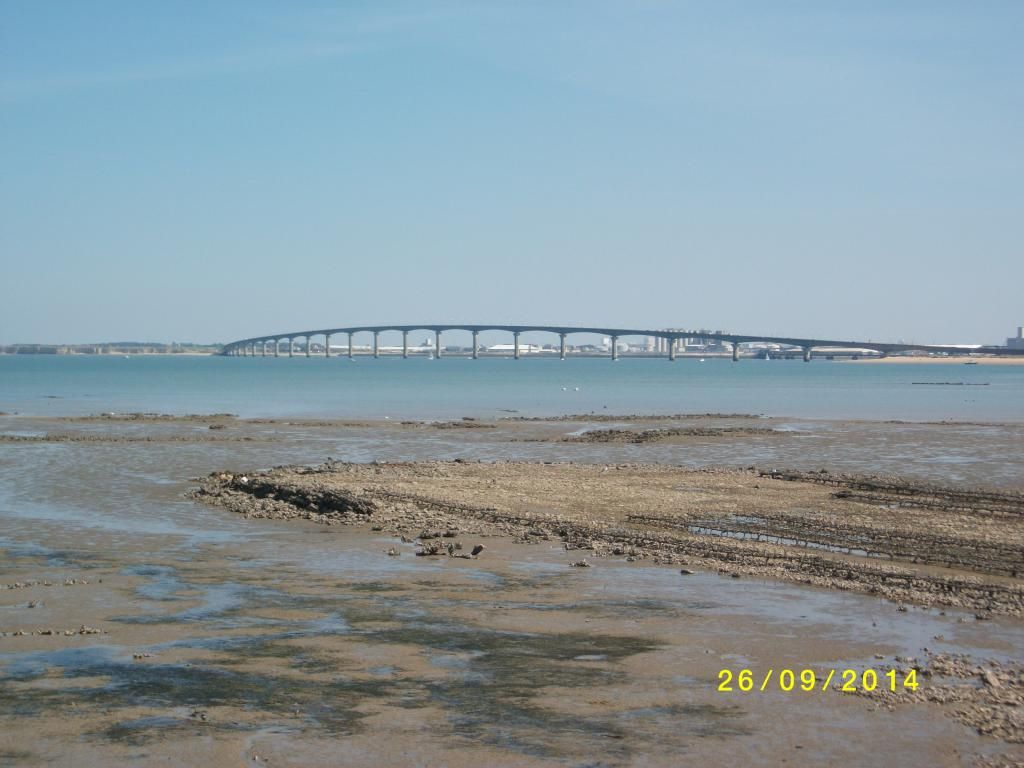 We ride towards RiveDoux Plage, which is near the bridge which links the island to La Rochelle.
It is another absolutely beautiful day.
I cannot believe how fortunate we have been with the weather, fingers crossed it keeps this way!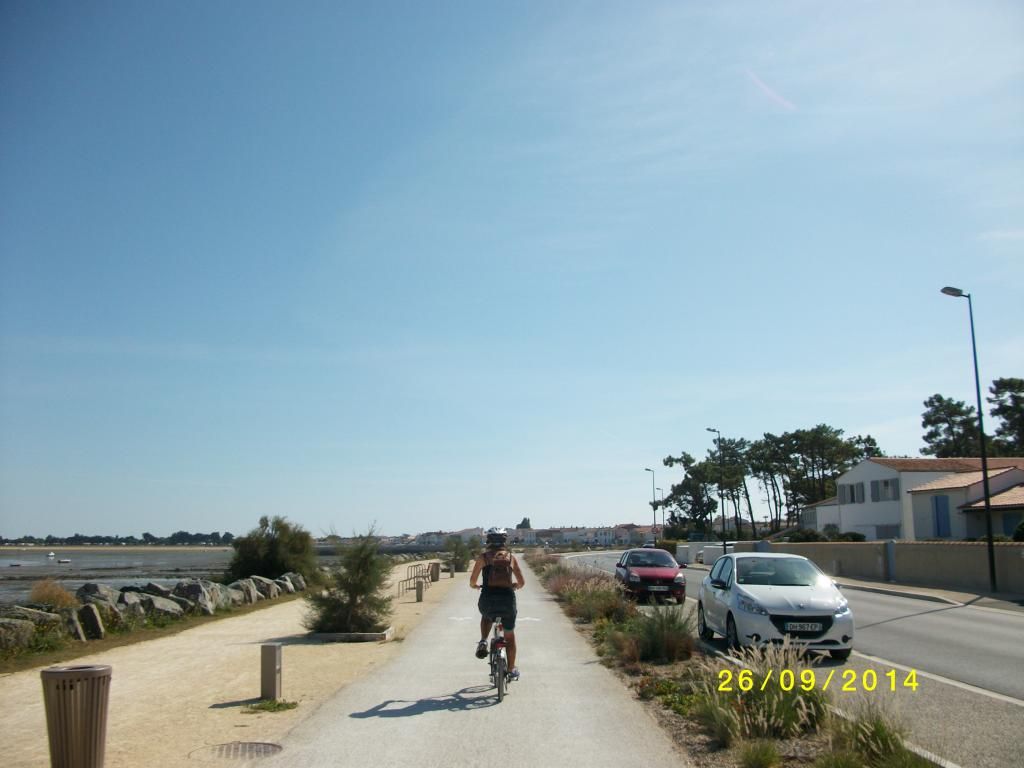 But, cycling in the sun makes you thirsty, so, Kathleen is soon peddling off ahead in search of a bar.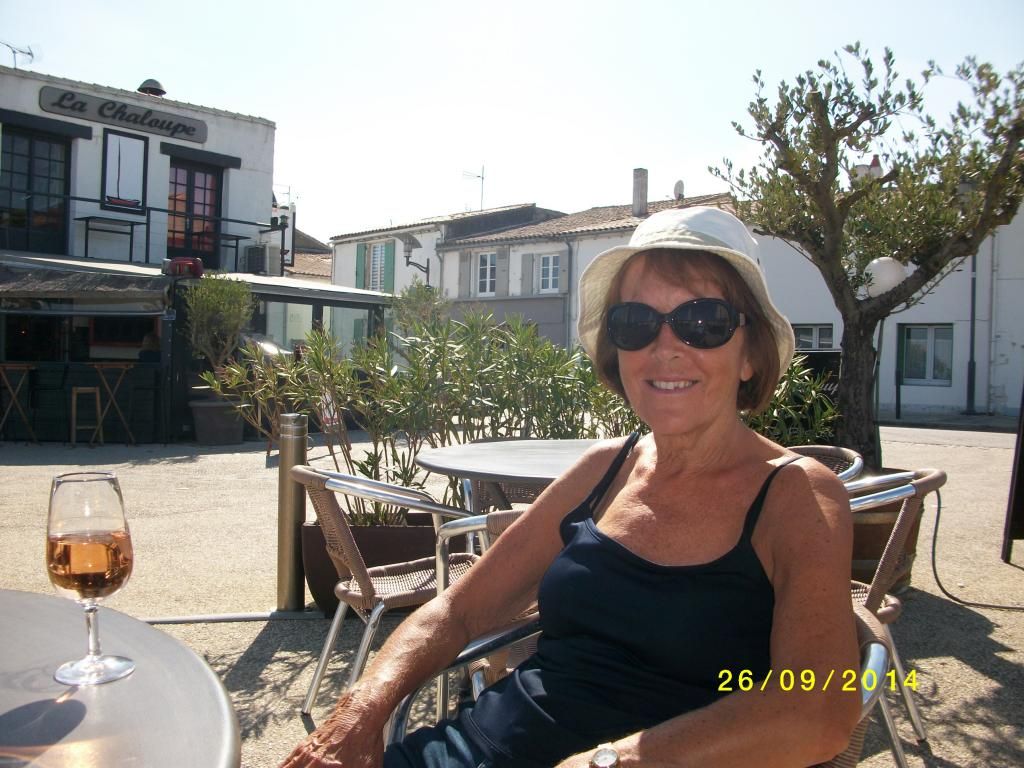 Where she is soon on the Vin Rose.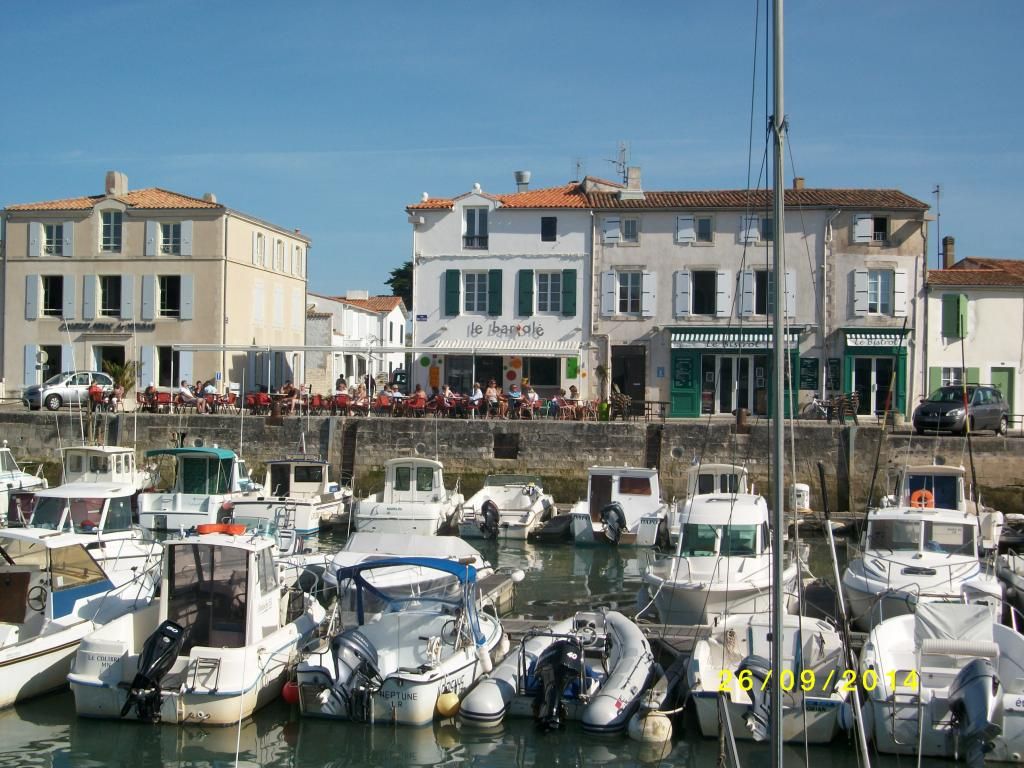 Then, back to La Flotte, this time, for ice cream!