Wednesday 8th October 2014 - Thursday 9th October 2014
As we are doing final packing up to leave, the sun comes out!
Tempted to stay, but, no, off we go the 80 miles or so to Saumur.
Shopping for food (and wine) supplies en-route.
We have some rain en-route, but, soon the sky clears, and we are back to sunshine and fluffy white clouds.
The campsite at Saumur is an ACSI site, called Ile de Offard (N47 15' 36" W0 3' 52").
It is located, as it's name suggests, on an island in the River Loire.
At the entrance to the site is a large notice board, informing you in several languages what to do if the site has to be evacuated due to flooding!
A trifle worrying, since, it is soon p***ing down, with thunder and lightening thrown in.
Kathleen, looking on the brightside, points out, we are on a pitch at the highest point in the site.
Thursday and the weather has improved, sunshine with a little cloud, is the official description.
What is it with women?, a fine day, and, their first thought is "nice day to do some washing".
So, we make use of the washing machines and dryers, clean clothes all round again.
After lunch, a stroll into town (Saumur).
First, we check out the Tourist Information Office, closed for lunch, (separating the French and lunch, is no easy task).
Next, by chance, we locate a restaurant which I have read many recommendations for (Le Trianon).
The reviews I have read, say, it looks a little basic, and old fashioned, indeed most of them compare it to the Café in 'allo 'allo, (the comedy series, for you youngsters).
Well, it remains to be seen if we will try it of not. The menu looks appertising, and the price is an incredible 11Euro, but, it does really look "shabby chic".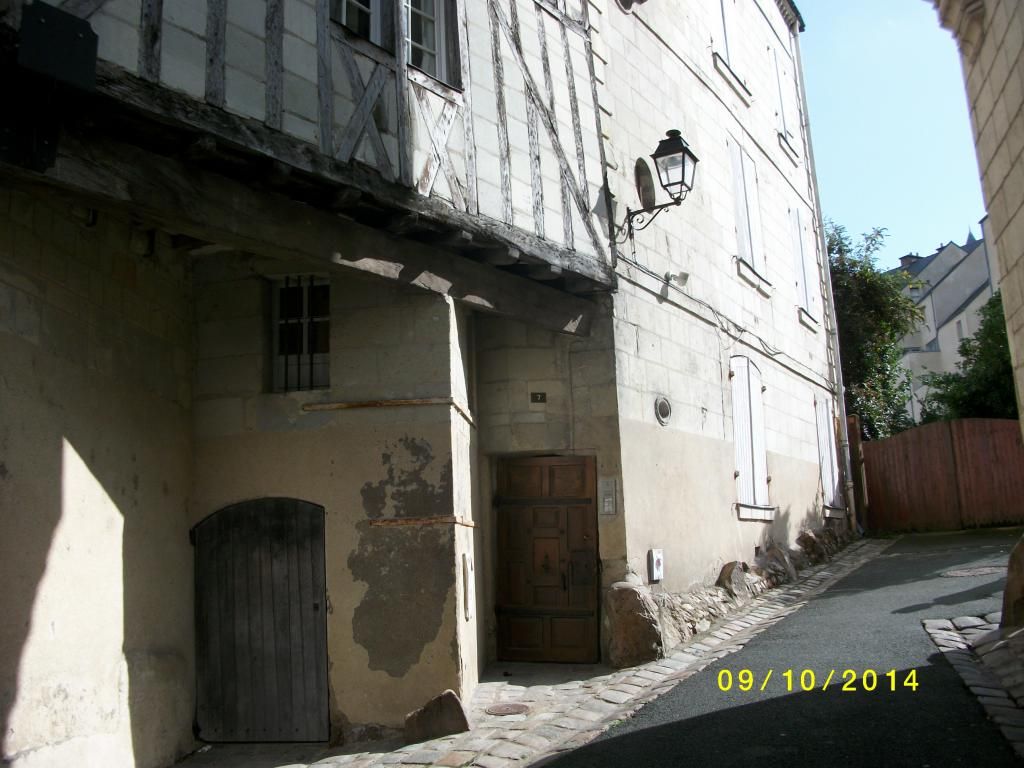 Time for a little culture..., a wander through the streets of the "old town", check out the church, and visit the rather imposing Chateaux.
This, I assume is the servants quarters!
No wonder the French had a Revolution!
Eventually, we are fully cultured, and retire to a bar.
While we are enjoying a refreshing "biere au pression", we meet two of our neighbours from the site.
The lady of the pair injured her hip some years ago, and, has since had the joint replaced no less than SIX times, and, they still ride around on a tandem! Some people are amazing.