Wednesday 1st October 2014 -
Thursday 2nd October 2014
Another misty start, turning into glorious sunshine by 10:00.
We travel to Coulon, a bit North, so, this is the beginning of heading home, sadly.
Camping La Venise Verte (N46 18'54" W0 36'33"), an ACSI site, about 1 mile outside of the village of Coulon.
A very pleasant site, although, almost empty.
This area is known a "Green Venice", because of the number of waterways.
Plenty of cycling we are told.
Thursday, another one of those days when reality intrudes, we are running out of clean clothes, so, first task is doing the washing.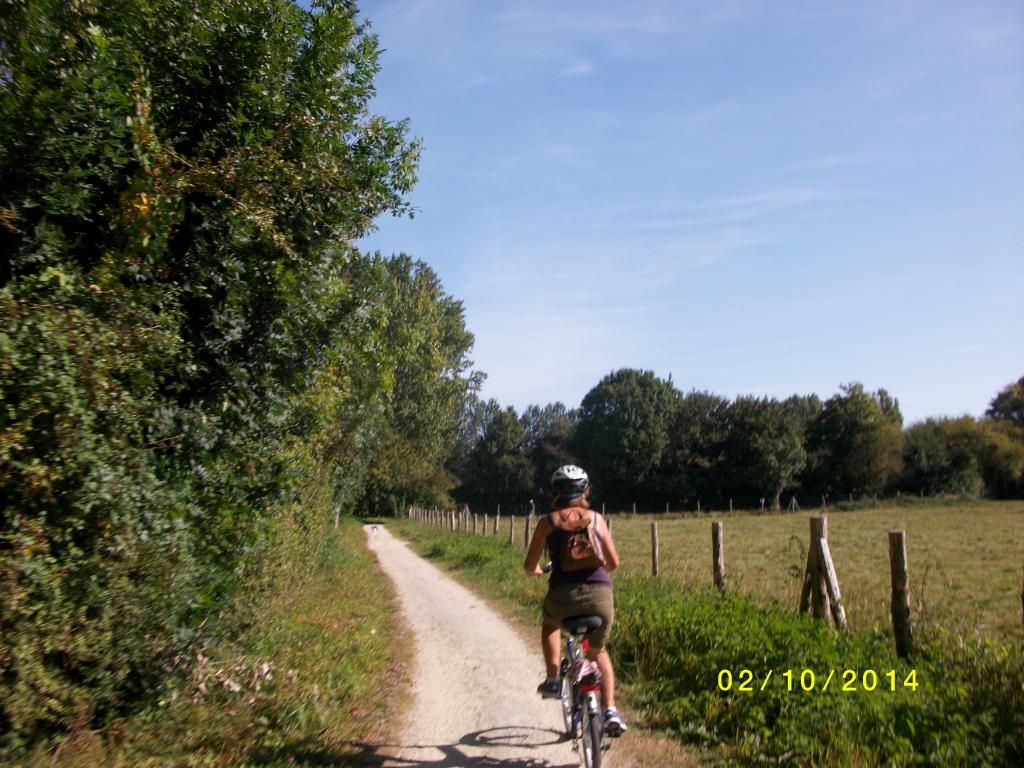 Once it is all nicely pegged out, on the line, we decide to cycle to Magne.
According to the map, which Kathleen got from the Tourist Office, there is a circular route, which is 21km (c12.5 Miles).
Off we go, it is mostly along bicycle tracks, or very small roads with little of no traffic.
Another brilliant day, sunshine, and a very pleasant 22C.
Can this really be true, it is after all, the beginning of October, the weather has been superb.
Magne, is a beautiful little place, we pause and have a wander around.
There is a very attractive bridge, over the river. It is decorated with flowers, beautiful houses on both sides.
The bridge is in the process of being painted, but, it is lunch time, no sign of the workmen.
We do not know it yet, but, this will be our downfall.
It is lunch time, we decide to search out somewhere to get a snack and some refreshments.
Le Chene Vert, (The Green Oak) looks promising.
It appears to be incredibly popular, the eating area is fully booked.
But, we are happy to sit on the patio area, drink our Rose, and, eat our Frites.
The measure of Rose is very generous, there are no fewer than five glasses each, in the carafe.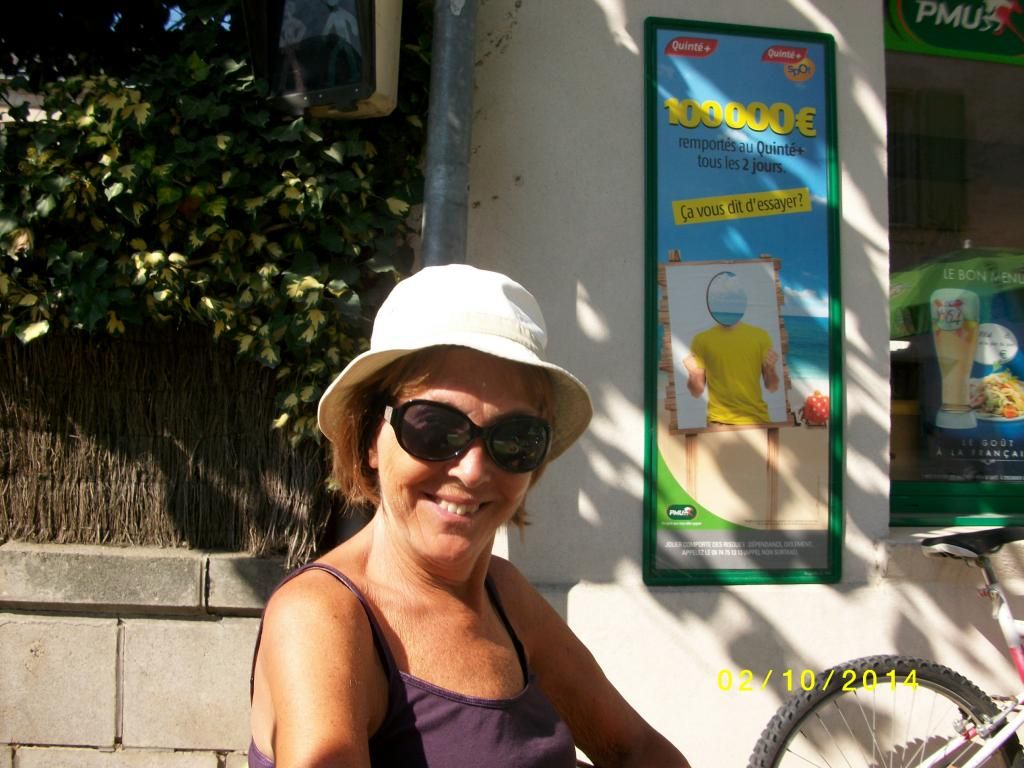 It is Kathleen's turn to pay, well, to be honest, her turn is WELL overdue.
But, as you can see, after five glasses of Rose, she is relaxed about the bill.
She has a good right to be, when the bill comes, it is only 5Euro!
Yes, Kathleen has done it again, it is her turn to pay, and the bill is tiny!
We have sat drinking and talking for so long, everyone else has left, including the workmen who are painting the bridge.
When we get to the bridge, it is closed, the workmen have a sort of "cherry picker" parked right in the middle of it, and large "Route Barre" signs in place.
We need to cross the bridge to follow "route 7" from the map.
We take what we think is a detour to get around the closed bridge, but, end up on the "wrong" side of another stretch of water.
Eventually, we come to a village (St Liguaire), where we encounter an elderly Frenchman who is cutting his hedge.
He directs us, in a mixture of sign language and French, how to get back onto "route 7".
What we decipher from the exchange is:
we need to go to the village centre

peddle very fast, because, next...

go up a big hill

at the top of the hill, turn sharp left.
Sure enough, it is exactly as described, and, we are soon back on the correct route.
The mellowness brought on by five glasses of rose is just beginning to wear off Kathleen, when we cycle into Coulon, after 15 miles.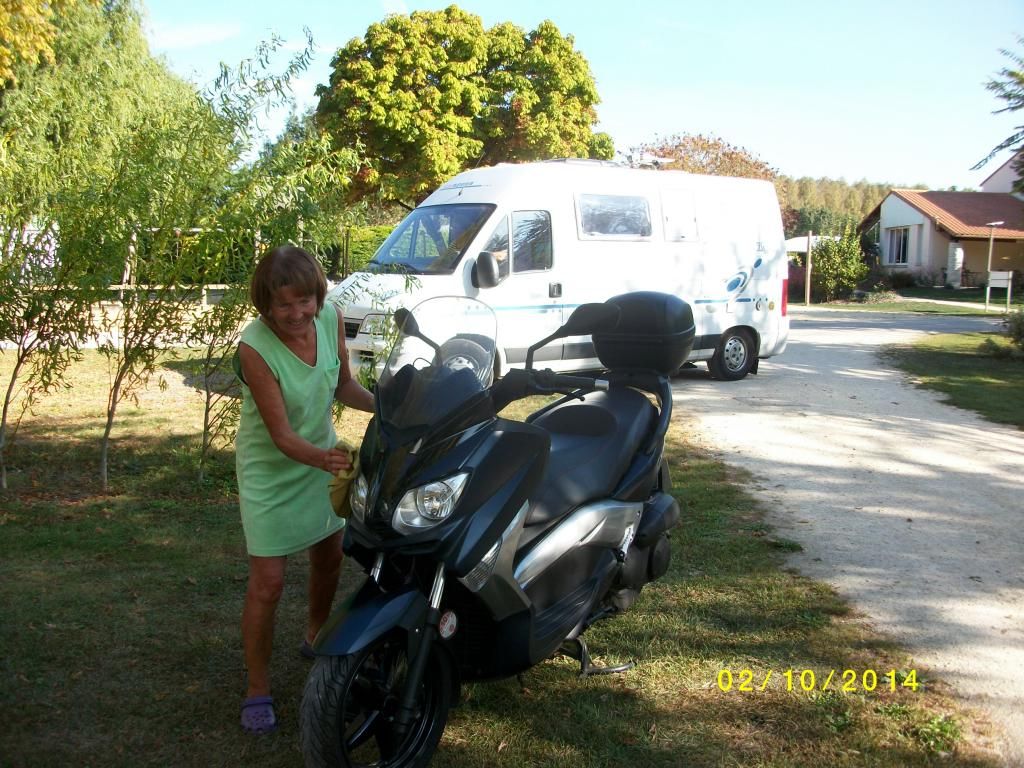 As good as the folding bicycles have proved themselves to be, it is decided we are not going to be cycling tomorrow, so, the scooter is unloaded from the trailer.
The effects of the Rose clearly have not completely worn off.....
Kathleen continues her dutiful wife and bike chick role, by cleaning the scooter....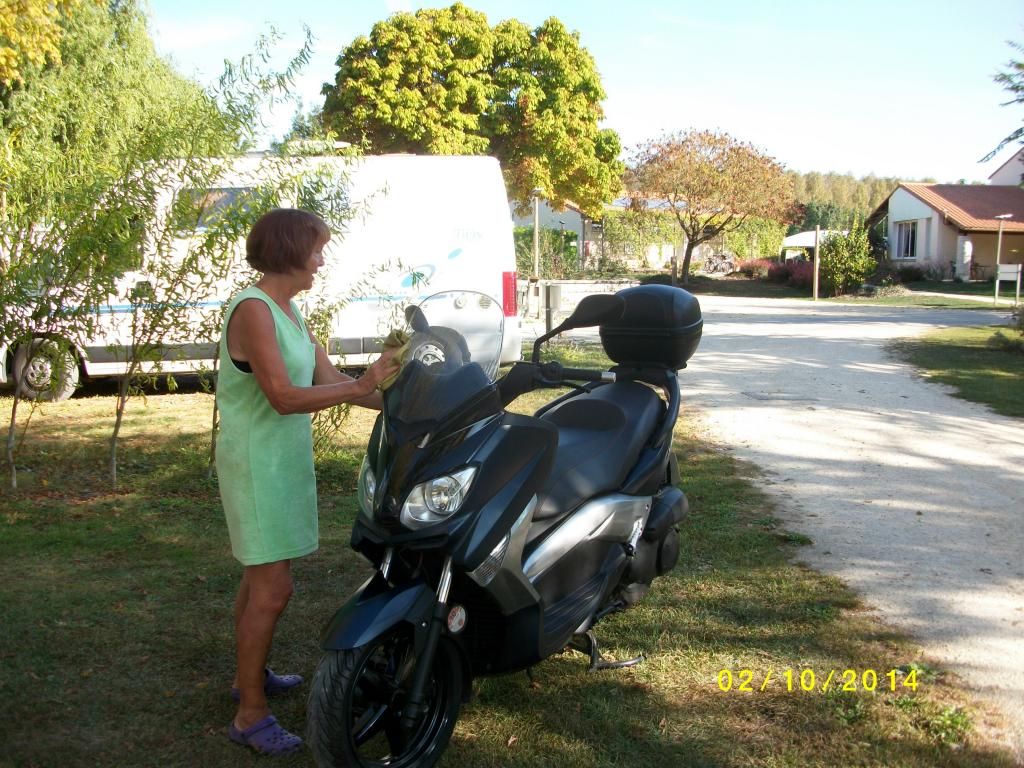 It will not last....